Search engine optimization (SEO) remains crucial for any company that wants to improve its ranking factor. SEO matters even more for real estate companies since they'll want to reach more clients to get involved with their real estate purchases or sales.
Even though it may not seem necessary initially, it can make a difference as you understand which SEO keywords matter and how to use them. However, you may need help identifying the relevant keywords to make a difference and improve your search engine ranking.
To go through it properly and with less effort, you should create an SEO checklist. You must understand what the checklist includes, why you should have one, and the types you should develop. As you do, you'll develop an ideal SEO strategy to help your real estate company succeed.
What Is an SEO Checklist, and Why Do You Need One?
An SEO checklist refers to a checklist on search engine algorithms to help you appear in more searches. A list will give you examples of keywords and help you use them, so you'll avoid low-quality content.
In short, the checklist lets you track your SEO details and ensure you do everything necessary to cover your SEO needs. In addition, you may be able to automate SEO checklists based on your needs and streamline the process. However, the simple standard checklist we'll talk through will get you the majority of the way to where your site needs to be.
With that in mind, you now know that SEO checklists exist to help you grow your GCI, allowing you to keep track of your progress while making changes. That way, you can review any piece of content to see if it contains a target keyword and create your link-building strategy.
You'll use them to optimize your website by checking for issues and improving your search ranking while helping you get organic traffic.
Why an SEO Checklist Matters to Real Estate Agents
While an SEO checklist may sound helpful, you'll naturally question why it matters to your business and if you really need one. As you go through the benefits, you'll optimzed your business toward search engines to.
Get more online traction
Find more clients
Establish your local SEO
First, you'll improve your online traction of you work. As you improve your organic search rankings and focus on content management through your checklist, you'll let more people discover your real estate website, making you appear in more Google search terms.
As a person performs a Google search, they'll come across your website if it's at the top of the page. They may even see it through Google My Business, which appears if you register your business for a Google search. They'll then show interest in talking with yous, leading to clients.
Speaking of your clients, you'll also want to associate your physical location with the Google search, even if you use a virtual office. A local address will help. That way, when people in the area search for real estate agents, you'll appear, allowing you to reach relevant clients and receive more real estate opportunities.
The Benefits of an SEO Checklist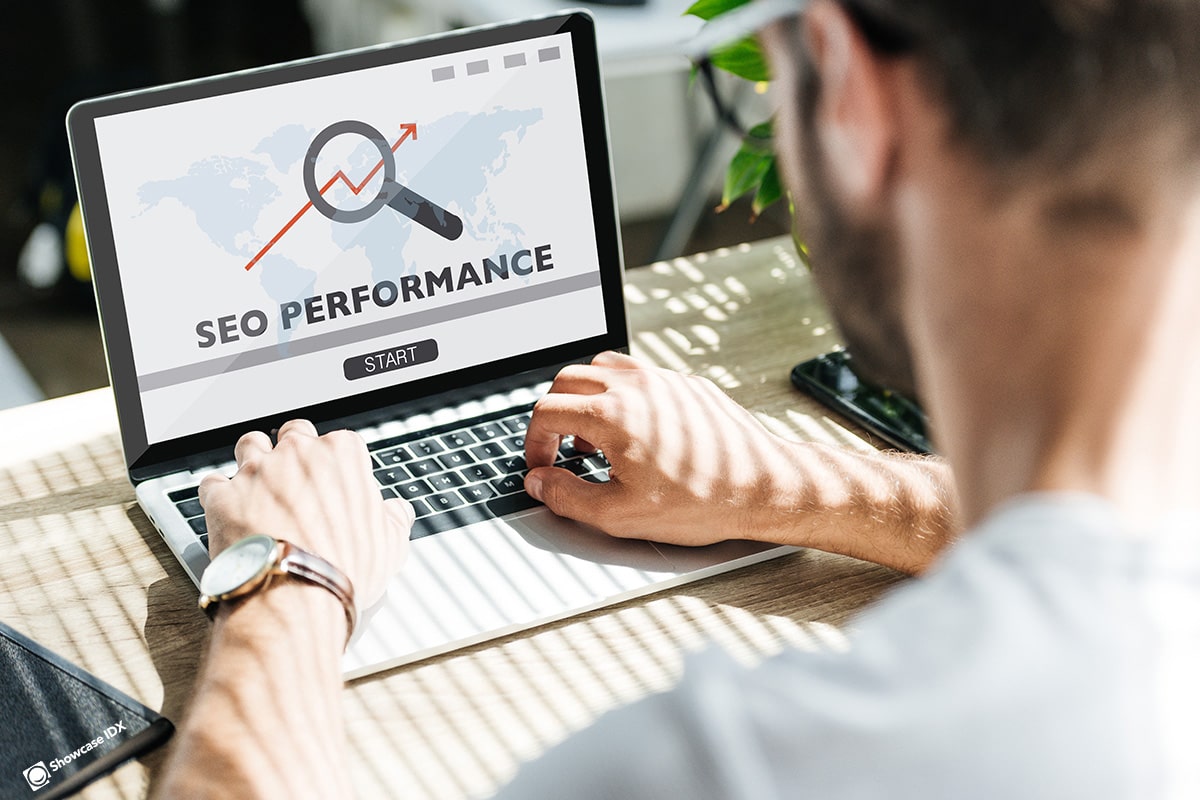 As you use an SEO checklist, you'll identify and enjoy various benefits to help you with long-tail keywords and similar points.
Keep track of your SEO tasks
Look into broken links
Track your site with date stamps
You'll want to track your SEO tasks as you work on your real estate blog posts and update your website. You want to ensure you prepared your external links, worked on the user experience, and prioritized the search intent.
You can also use it to check for broken links. If your website has broken links, not only will you irritate clients and impact your conversion rate, but it'll impact your SEO. So check through them and use a checklist to make the most out of your SEO audit.
If you want to work on your Google search ranking, you must keep track of when you update your site. You can use a checklist to track your site with various date stamps, so you'll know when you made changes and optimized the page to gain quality traffic.
Technical SEO
If you want your website to perform well while search engine bots go through it, you'll need to work on your technical SEO. Technical SEO refers to adjustments you make to the site and its structure rather than the content on the site.
For example, technical SEO focuses on making it faster and improving the website's overall design, so you'll make it user-friendly. The process also involves making a mobile-friendly website to let anyone go through your site with minimal issues.
The Importance of Technical SEO
To improve your technical SEO, you must understand why it matters.
Making your website easily accessible
Creating small and efficient optimization
Making your website more appealing
As you improve your website, you want to make it accessible to people, including your mobile users. SEO exists to help you make those adjustments so your website becomes easier to navigate and use by people, encouraging them to stay on the site.
These optimizations will add up with time, considerably impacting your website, so you'll reach more people.
You'll then create a more appealing website, meaning people will want to stay on it and look through the real estate properties available. They can find what they need, and you get higher rates and improved metrics to help you reach more people.
As you keep working on your technical SEO, you'll improve your website, allowing you to gain more clients and boost your online presence.
Technical SEO Checklist
As you work on your technical SEO, you'll want to optimize the following technical and visual elements to improve your real estate content.
Page Speed Optimization
While high-quality page content matters for your site, you must also make it run quickly. People will leave the site and seek help from another real estate business if it has long loading times. Search engine bots also check the page speed, meaning it impacts SEO.
As a general rule, it should only take a second or two to load your page if you don't want it to impact your SEO negatively. Things like your listing photos from Showcase IDX will automatically lazy load after the initial page loads to improve initial load performance.
URL Structure and Redirects
You should also work on creating SEO-Friendly URLs, so you'll appear sooner in online searches. Doing so means avoiding long URLs when necessary while improving the redirects to make them as optimal as possible.
If you don't have the knowledge to work on your URL structure, you should identify a guide on URL structure to assist you.
Internal Linking
Regarding structure and technical SEO, you'll need to improve your internal linking. The process involves adding internal links to your pages to help your guests navigate your website, making it more user-friendly for your potential and current clients.
Every website must use effective internal linking, so ensure you work on and improve it.
Mobile-Friendliness
Most users will find your website on their phones, so you must optimize it for mobile searches. Since many people perform a mobile search for their needs, they'll become frustrated if your website doesn't display correctly on their phones.
Mobile optimization may seem insignificant, but you must create a mobile-friendly website for your clients to boost your SEO.
Duplicate Content Issues
You could accidentally create duplicate content when you build a website and have dozens of pages to show off various properties. Ensure you review your website and remove duplicates since it'll impact your SEO and potentially confuse users.
You don't want two pages to appear when people use your website's search bar, so remove these duplicate pages as you find them.
On-Page SEO
On-page SEO refers to making changes to your website, so you'll make it a better option for SEO. These changes usually involve content on your website, making improvements, and doing all you can to maintain your site.
As you run a real estate business, you'll naturally update your site as people buy or sell homes. While you should keep these points updated, you shouldn't overlook other aspects of on-page SEO, so you'll maximize your efforts.
The Importance of On-Page SEO
As you understand on-page SEO, you should also look into its benefits to help you see why it matters.
Optimize individual pages
Improve your website's quality and relevance
Boost your search result rankings
Not only can you improve your website, but you can address individual pages to help you use your target keywords. Optimizing these pages allows them to rank on the website since specific pages can appear on search engines, not just your real estate home page.
On-page SEO also allows you to improve your website's quality and relevance. Since you update and change it, search engines recognize these changes and the frequency of your updates, helping you to stand out among your competitors.
You'll appear sooner in search results as you keep taking these actions. So while you'll need to compete for keywords and use them if you want to succeed, you can make a start and constantly improve your on-page SEO for the better.
On-Page SEO Checklist
Speaking of on-page SEO, you'll want to incorporate content elements to make your website searchable, such as the terms below.
Target Keywords and Search Volume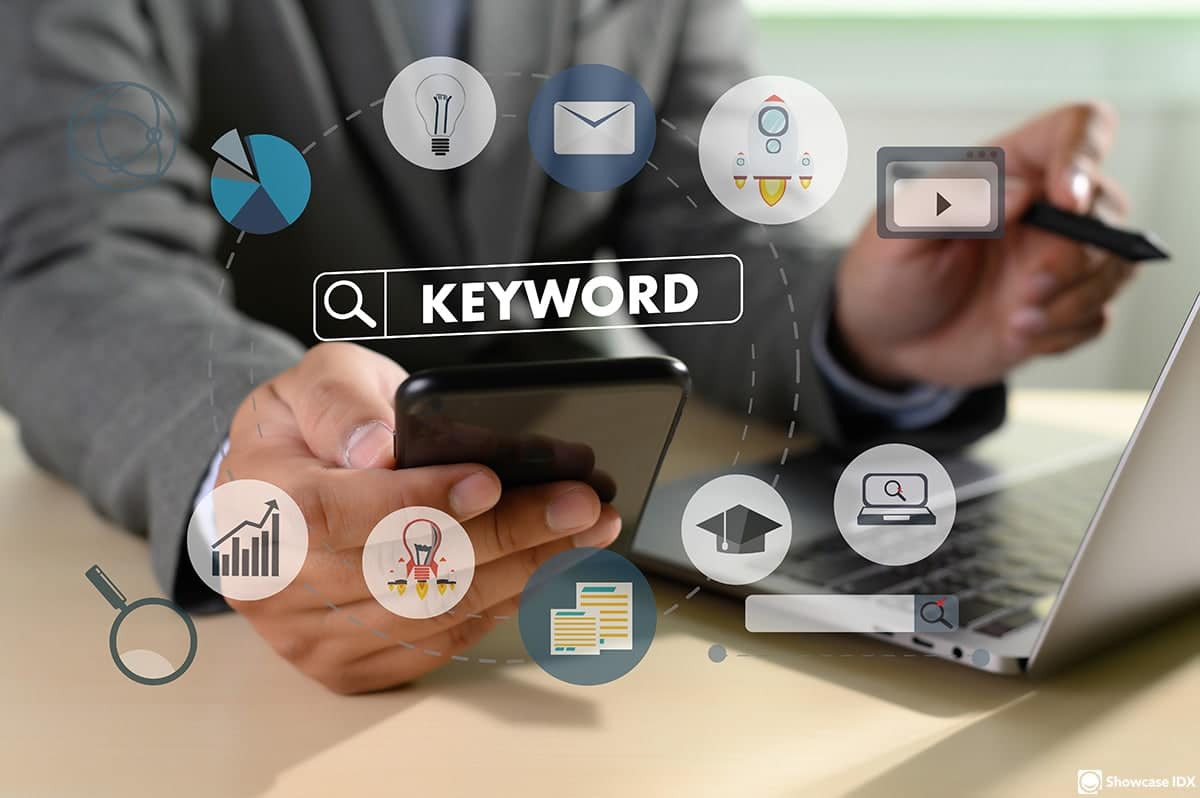 On top of working on your primary keywords, you'll want to review the search volume of various terms. The search volume lets you know which terms people look up most online, so you know which ones to use in your local SEO.
You want a balance between terms people search for while also avoiding highly-competitive words so you increase your SEO faster.
Keyword Placement in Title Tags, Headings, and Body Text
You need to use primary and secondary keywords and place them in other areas. For example, littering them throughout your content won't help, so you'll want to put them in your title tags and headings.
Doing so proves those primary keywords remain critical parts of your website, helping you with your SEO.
Image Optimization for Alt Tags and File Size
You should also optimize your images by including alt tags. Alt tags refer to descriptions of the images, allowing you to incorporate more keywords with the photos to make them appear in more searches.
You should also optimize your image file sizes so the pages don't take too long to load when people visit your real estate website.
Relevant and Quality Content
No matter what type of content you create, including written and visual content, you'll want to make it relevant and focus on high quality. If you have relevant content, more people will go through it, making search engines consider it important.
This happens as people spend more time looking at the content on your pages since search engine algorithms will track this information.
Consistently Updated Webpages
You should do your best to update your web pages regularly. Not only can you improve your pages, fix mistakes, and focus on optimization, but updates indicate to algorithms that your pages are relevant and you put effort into keeping them relevant.
It doesn't hurt to update your content every few months, so keep track of the pages and see when you update them.
Off-Page SEO
Off-page SEO means spreading your brand to other websites, so you'll appear in more online searches. Instead of working on your website, you try to get other websites to add your links by making yours a high-authority or knowledgeable website or through cooperation.
In short, if it helps you spread your website without you working directly on it, the action most likely involves off-page SEO. However, advertising doesn't count since you pay someone to show your site rather than work on your search engine optimization.
We'll walk through the general areas of Off-page you need to know, but if you're looking for more specific recommendations and even suggestions for who can help you with this, I have another article on that here.
The Importance of Off-Page SEO
If you decide to work on your off-page SEO, you'll quickly understand why it makes a difference and its benefits.
Improve your website domain's authority
Boost your website's visibility
Attract more organic traffic
As you get high-quality backlinks from other websites, you can make your website a better online authority. Doing so makes it more relevant and essential, causing search engines to prioritize your website.
Doing so will naturally increase your visibility, helping you build your reputation and making your website more accessible to people. Since your brand spreads to more sites, you'll appear in searches, and the algorithm will improve your visibility.
You'll naturally get more organic traffic as you apply your brand and make it appear on more off-page sites. You'll gain traffic from people clicking on your links, and your domain authority will improve, causing you to appear in organic searches.
Off-Page SEO Checklist
You should also go through an off-page SEO checklist to help you work on your SEO while incorporating a Google search console.
Backlink-Building Strategies
You should start by developing backlink-building strategies where you get your link on other websites. For example, if you make your real estate page one that people reference and your blog one that others can quote, you'll naturally build your backlinks.
This will take time and effort, but you can develop backlink strategies to help your business succeed.
Incorporating Links Through Guest Posts
Speaking of backlink building, you should also look into getting your links on other sites through guest posts. Many companies will let you make guest posts on their sites, meaning you can incorporate links into those posts to get more readers to view your site and content.
Ensure you pick relevant websites for your guest posts to reach the right audience without making your content feel out of place.
Using Social Media
You should also create social media pages for your business. Social media allows you to spread your brand and add links to your website as you share information, helping you reach more people and improving your SEO.
Do your research and see which social media channels have the most potential in your industry to help you with the process.
Create a Google My Business Account
Google My Business remains a crucial program for any real estate business that wants to succeed. Registering your business with Google lets you display your real estate business's name, website, and even phone number to reach more people.
That way, if you work on your SEO, your business page will be one of the first pages people see when they search for local real estate agents.
Use Website Registries
You should see if you can get your real estate business on a website registry. These refer to websites focused on building a database for people to find businesses, usually as a way to share information and reviews with others.
Not only will this help with your backlink, but you can spread good reviews and allow people to see that you offer amazing real estate services.
Key Takeaways
An SEO checklist remains crucial to any search marketing strategy. To get your real estate business to perform well and reach more people, you must use a digital market and do what you can to improve your search optimization.
Doing so requires you to understand what a checklist includes, why you need one, and the aspects you must focus on to improve your content.
Click here to see my favorite SEO checklist. It gives you a few solid bonuses too that will help you grow your business in the next 12 months while using Showcase IDX.
FAQs
Frequently asked questions (FAQs) also matter as you appeal your content to search engines. Doing so will help you work on your relevant content and improve the click-through rates, so ensure you look into FAQs.
What is the most advanced SEO checklist?
The most advanced SEO checklists use multiple crucial points to develop a content strategy.
Focus on creating high-quality content
Use social media as part of your strategy
Incorporating SEO automated tools
Such points will help you identify the best target keyword for your situation while also incorporating points into meta descriptions. As you know how to use them and incorporate internal links, you'll reach more potential clients.
What are SEO checklists?
An SEO checklist means you identify which keyword types, content, and strategies you'll use to improve your SEO. You can use them to ensure you cover all the keywords you need and the internal linking you need to ensure you make great content.
In short, a checklist reminds you of everything you must cover as you tackle your SEO needs. Before you post any content, you'll go through the list and ensure you added everything to make it a priority option for search engines.
How do I create an SEO checklist?
Creating an SEO checklist isn't as challenging as it seems. You just have to choose a tool to create the checklist and go through it. Many companies use an SEO tool since it automatically recommends and keeps track of primary keywords while considering search volumes.
You can then include details for a content checklist, so you'll know what to have in your work. This should consist of the links you want to incorporate, the length of the content, and similar details to ensure you hit all the points. You can also buy a good list such as my favorite SEO checklist here.
What is the most comprehensive SEO checklist?
The most comprehensive SEO checklist requires you to review everything you must consider while working on your SEO. You can include multiple crucial points, like creating meta descriptions, working on title tags, and checking monitoring tools.
If you review such information and work on your page, you'll avoid low-quality content. In short, you'll want to look at everything you need, create a checklist, and continue adjusting it based on the current algorithms and other external factors.
What is a checklist for on-page SEO?
It refers to the various points you want to address while you work on your on-page SEO. You can create high-quality page content for your website, making it more appealing to people and gaining organic traffic.
Usually, these checklists will include the keywords and which links you want to use, seeking PageSpeed insights, and doing what you can to increase the quality. As you work on it, you'll naturally and consistently boost your SEO and page rankings.