IDX integration is one of the most misunderstood topics in real estate. I've seen agents, brokers, web developers, and marketing experts all struggle with this topic.
After reading this article and watching the accompanying videos, you will be an expert on IDX and how IDX integration applies to today's real estate agent.
What if you could become the most trusted source for online real estate listings in your local market?
You may think that is impossible. After all, Realtors are now used to clients starting their new home search on big listing syndication sites. How could you ever gain an edge on these giant corporations?
The answer is a little thing called IDX, but only when you understand the modern term.
With your own website and IDX integration, you wield the ability to not only show off your own listings but tap into the power of the entire MLS database to generate leads and grow your business. How? Read on to find out.
What is IDX?
The acronym "IDX" stands for Internet Data Exchange and is sometimes called Broker Reciprocity. As the National Association of Realtors explains, IDX is a policy within the governing structure of the Multiple Listing Service (MLS), which states that listing information may be shared online by real estate agents who participate in their local MLS.
While IDX is technically a policy from NAR, most real estate professionals and marketers use the term IDX to refer to the tools and software that
display MLS listing on agent websites,
provide consumers a way to search for active listings, and
protect consumer contact/budget information by allowing them to choose which real estate professional to share it with.
In practice, this means that Realtors can give consumers access to all MLS data on their own real estate websites. Instead of sending potential clients to a third party listing service or even the local MLS, IDX keeps them on your site.
IDX is not a rigid portal that forces your buyer to use a one-size-fits-all platform. Instead, it is more like a database of MLS listings that can be displayed in different ways. That is why the proper implementation of IDX matters a great deal.
The IDX Integration Difference
How IDX is actually used makes a tremendous difference. It pays to have the right strategies for your real estate website in order to stand out in an increasingly competitive market.
This is because IDX, itself, does not have a one-size-fits-all framework. Some solutions to display MLS data using IDX will just display the listings, and that's it. Unfortunately, simply showing the property listings will not yield the best results because the pages are not indexable by search engines.
Instead of just displaying the listings, a modern IDX integration boosts your website by ensuring that each MLS listing from multiple MLSs like ARMLS and NTREIS has a page of its own which can be found, and indexed by, the most popular search engines.
Therefore, when someone is searching for a property – or even just local listings in general – your site will have a better chance of being found.
IDX Versus Listing Syndicates and Portals
It may be no surprise that most Realtors don't like the big listing syndicators who are omnipresent in advertising these days. Some of the big listing services (such as Trulia and Zillow) are damaging the credibility of the real estate market and squeezing Realtors for advertising dollars.
Worse, some of the "listings" are bogus from a consumers' viewpoint because the houses are not actually for sale.
Stats to know: Zillow and Trulia may be missing as many as 20% of agent-listed homes actively for sale and about 36% of listings marked "active" on these two portals are no longer for sale, according to a study by The WAV Group.
By inflating the number of listings that appear to be available, big listing sites woo consumers into a false reality based on homes that are not really available at all. The inaccurate listing data may come because these sites do not use IDX and instead receive listings from brokerage syndication and to a lesser extent from data feeds from MLS Systems.
While home buyers may be temporarily swayed by the dog and pony show of these corporations, they may come to be frustrated with the experience after coming up empty in their search for a new home.
This, in turn, creates an opportunity for savvy Realtors. It is where IDX integration, properly implemented, levels the playing field.
A real estate agent can and should inform potential clients that the MLS is the gold standard for listings, the most accurate and up-to-date information available. They shouldn't waste their time with anything less than what's most effective, right? Your job is to tell that story.
Then, you need to provide them with a great tool to utilize the power of MLS in their search. That is where IDX integration comes in.
IDX Integration Protects Your Clients' Info
Most consumers do not realize what these large Listing Sites actually do with their contacts (and budget information) when they sign up on the big real estate portals.
Zillow itself earned more than $1.5 BILLION in 2018 according to their public SEC filings, and the vast majority of this came from their advertising services (e.g. Premier Agents) where they provide consumer contact information to a variety of agents and other partners.
We've spoken with several consumer privacy experts that have verified that the average consumer does not realize that "they themselves are the product that these large portals are using to earn billions of dollars of revenue". Zillow receives revenue from sharing individuals contact info, their search intent, and their budget (as determined from what they're searching for) to agents/brokers in exchange for $$$.
A modern IDX integration on your own website not only provides your clients' the real estate website experience that they expect but it also allows you as their trusted hyperlocal expert to help protect their information – yet another part of the value a good Realtor brings to the home buying process.
IDX Implementation That Works
When figuring out how to best bring IDX integration to your website, it's worth asking what consumers have gotten used to. The fact is, the huge listing services previously mentioned are the ones commanding most of the attention of new home buyers because of their enormous advertising budgets.
Use that to your advantage by mimicking their best qualities or exceeding them. Look for an IDX solution that combines beautiful, rich map-based search tools with listing photos and filtering options.
Of course, it doesn't have to stop there. Ideally, beyond just searching MLS listings, your IDX integration should also capture the new leads your website is sure to generate from additional search engine traffic.
Another means of lead generation is via organic social traffic. If someone finds a home they love, don't you want them sharing it via social media? These shares can create additional inbound traffic to your website, as long as you have an IDX solution which makes social media sharing a breeze.
The proprietary Friends & Family Search within Showcase IDX allows your clients to invite their significant other and trusted friends and family to collaborate together on your site. Instead of texting and emailing links around, your buyers are able to do that entirely on your website in a secure collaboration dashboard.
Conceivably, you could spend millions of dollars and an enormous amount of effort and time developing your own proprietary solution. That isn't necessary, especially if you already have an existing website.
If you do, there's a good chance you are using WordPress – it is an extremely popular platform for small business sites. WordPress plugins make finding a great IDX integration a piece of cake.
Want to know what to look for in a modern IDX integration? Watch the short answer below on making sure to avoid using an outdated IDX that uses subdomains or iFrames (e.g. IDX Broker) or our longer video that walks through the common mistakes on real estate website, like: using iFrames or Subdomains.
IDX Works for the Realtor – When Done Properly
If you're a Realtor, you know how hard it is to penetrate the crowded marketplace for new home buyers with your advertising and message. That's why it's so crucial to employ tools such as a modern IDX that tip the balance in your favor.
You may not have millions of dollars to spend on advertising like the big listing sites, but you have something even better: the trusted authority of a hardworking, community-focused real estate agent – you, and with the right IDX engine behind your website, you can rank well on Google.
You are a resource for new homes in your community; they see your signs, they see your advertisements, they see you at local events.
This local presence is an advantage that the big listing websites will never have.
What to consider when choosing your IDX?
Too often I see agents opt for an "all-in-one" system or upgrade to the IDX built by the same company running their MLS's system, but those can be critical mistakes.

Think about an all-in-one tool as a multi-tool. This can be great because it can do a little of everything, but would you ever give it to a team of contractors to build your house? No, you'd give each person a tool made specifically for the job they need to get done. That's where point solutions come in.
Picking a point solution allows you to get the best solution for your unique marketing needs and create your "best of breed" marketing stack.
Here are some of the primary components of your real estate marketing stack.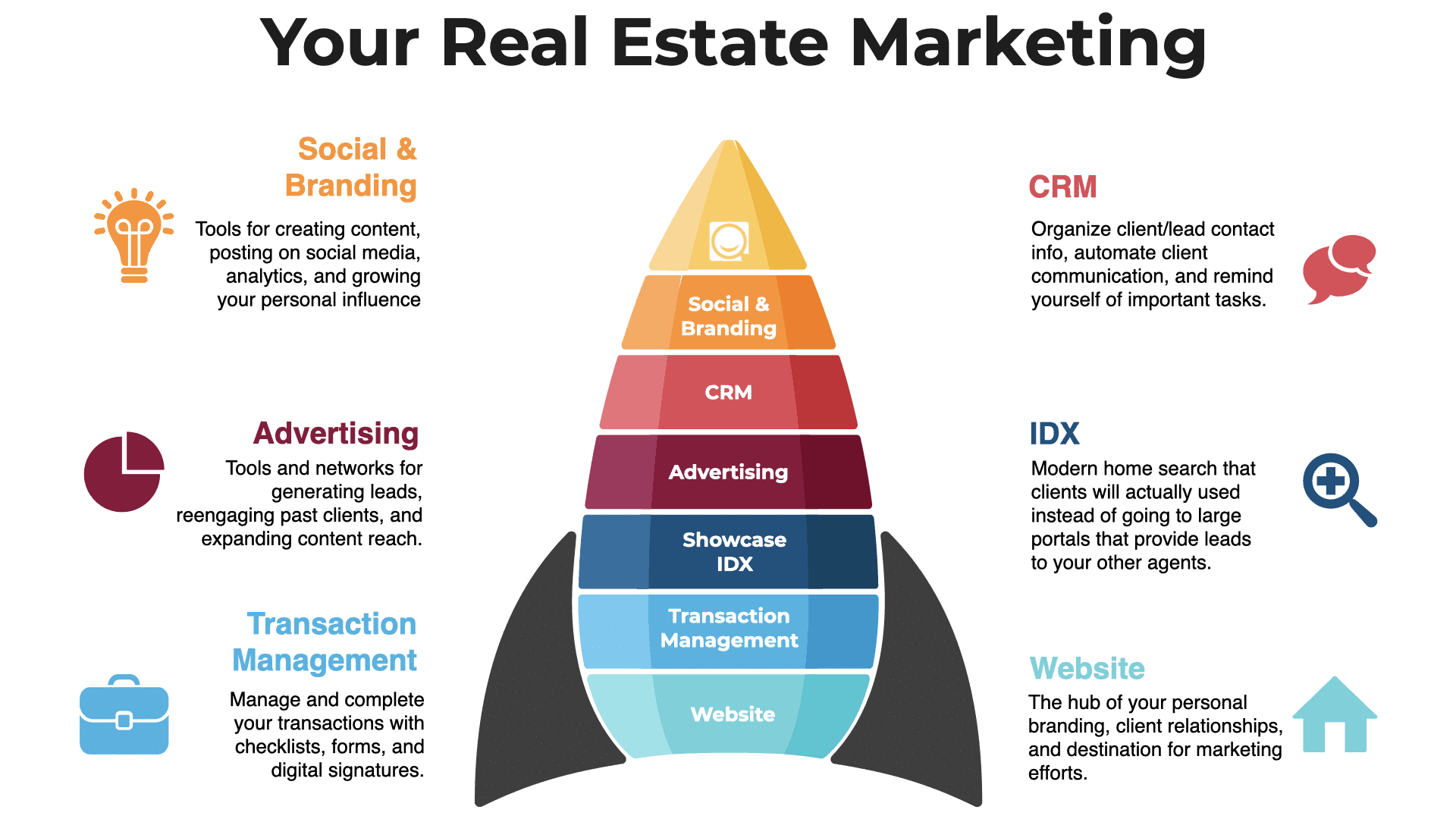 How to integrate your IDX with your CRM and other marketing tools?
We've walked through how the IDX is really the home search and listings engine powering your website, similar to how Google Maps, MapBox, or HERE Technologies are the providers of "maps" for almost every application and website, but how do you connect your IDX home search to the other tools in your marketing stack?
A modern IDX will have three ways of sending your leads to other tools:
Manual exporting via CSV or copy/paste
Automatic direct integration with a small number of tools. Direct integrations can be extremely powerful as they can allow your IDX to send over additional data (e.g. property search information, number of visits, etc.) to your CRM.
Automatic Zapier or Real Synch integration
Here's a quick video walking through how to use Zapier to integrate your IDX with 60+ marketing tools such as BombBomb, MailChimp, BoomTown, Contactually, HubSpot & more. Click here to see the full Zapier integration guide with Zap Templates.
---
Bring the power of MLS listings to your website with IDX integration, and you can trade on that authority in a way that will not only endear you to your existing clients – it will win you countless new ones as well.
Do you agree that IDX integration is a game-changer? Leave a comment below and let us know what you think!